Tube Lines Underground strike faces legal challenge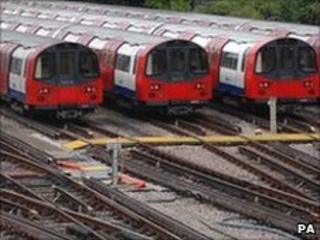 A late legal challenge to a planned 48-hour strike by Tube maintenance workers has been announced.
Tube Lines, the company which repairs the network, said it only employs 30 train maintainers while the RMT union said 47 voted for a strike.
Tube Lines is taking the case to the Royal Courts of Justice on Wednesday, the first day of the planned strike.
The RMT, which is concerned about job losses and conditions, said the strike would go on as planned from 1900 BST.
RMT general secretary Bob Crow said: "Despite this legal challenge, tomorrow night's 48-hour strike remains on.
"RMT will defend its position in court against this latest attempt by an employer to use anti-trade union laws to override a perfectly bona fide ballot."
A Tube Lines spokeswoman said: "They have provided inaccurate information - they maintain 47 train maintainers voted yet we only employ 30.
"You can't have more people voting than are employed."
Tube Lines maintenance workers were due to walk out for 48 hours from Wednesday evening in a dispute over jobs, pay and conditions.
DLR strike cancelled
A spokesman for the Mayor of London Boris Johnson said the mayor was not prepared to meet with unions while they were preparing to strike.
Meanwhile, a planned strike on Docklands Light Railway (DLR) has been suspended.
The 72-hour action planned by DLR staff was put on hold pending consultation with members on a new offer from the firm.
DLR workers are in dispute with Serco Docklands over pay and had intended to walk out from 0400 BST.
Serco Docklands confirmed that the proposed strike action on DLR had been suspended "following successful talks at Acas between the company, union representatives and employees".
David Godley, Serco Docklands managing director, said: "We are pleased that this has been achieved with minimal disruption for our passengers and will seek to maintain this through ongoing dialogue."