Tougher Assembly expenses rules delayed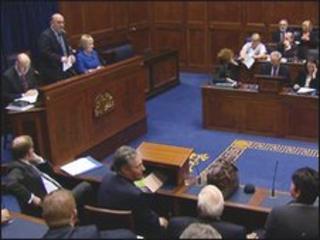 Proposed changes to the Assembly expenses system which would limit the employment of family members to one per MLA, are likely to be delayed after the DUP vetoed a bill repealing the existing allowances.
New rules would mean a reduction in milage payments and prevent politicians renting offices from their relatives.
The changes, however, were stalled when the party withdrew support for a bill due to abolish the old expenses regime.
Other parties said the DUP had vetoed changes being considered by the cross-party Assembly Commission for months.
The DUP said they wanted a new independent body on pay and allowances to be created to oversee any change to the expenses system.
Sinn Fein has publicly questioned why the DUP withdrew support at the last minute for the bill and claimed that many people "would question the DUP's motivation".
BBC Northern Ireland political editor Mark Devenport said that whichever party was right, the surprise was that the expenses plan got so far before running into trouble as the DUP, Sinn Fein and the other Stormont parties were all represented on the Assembly Commission which had been considering the proposed changes for many months.