Soldier's mother says troops should stay in Afghanistan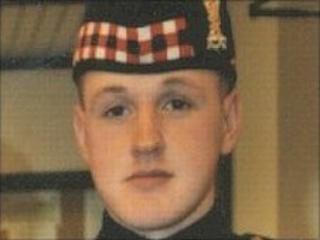 The mother of an Aberdeen-born soldier killed in Afghanistan has said British troops should stay there until the mission is completed.
Janette Binnie was speaking after the death of the 300th UK serviceman in the country was announced.
Her 22-year-old son, Acting Sgt Sean Binnie, was killed while on patrol with the Black Watch in Helmand Province in May last year.
She said she was sure there was still a very important job to be done.
Mrs Binnie told BBC Scotland: "I do not think it's time for the troops to come home, there's too many boys been lost.
"I think they need to complete the job."
Single gunshot
However she added: "I think they need a lot more help."
Acting Sgt Binnie was shot dead as he threw a grenade while fighting insurgents.
Relatives travelled from Aberdeen to Trowbridge in Wiltshire to attend the inquest into his death in February, and heard he was killed by a single enemy gunshot.
Acting Sgt Binnie had married just a few months before his death. He had joined the Army in 2003.