Rajasthan gets India's first 'elephant village'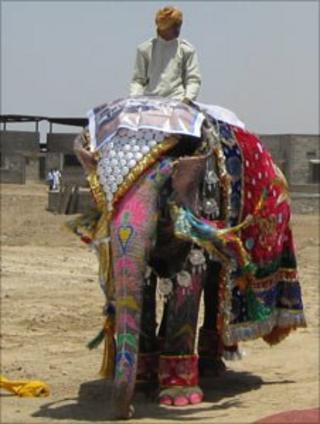 Celebrations have marked the opening of India's first "elephant village" in the northern state of Rajasthan.
Fifty-one houses have been built in the village of Kunda to house the mahouts - keepers - and their elephants.
The state government has allotted the land for the village, close to the historical Amer Fort in the state capital, Jaipur.
Every year 1.4 million tourists visit the fort and for many, an elephant ride is the highlight of the visit.
Rajasthan Tourism Minister Bina Kak, who inaugurated the elephant village on Saturday, said it was a great gift to the animal.
"As of now, 51 elephants have been accommodated here. The rest would also get their quarters soon," Ms Kak said.
'So moved'
The minister said the village would be developed as a tourist spot, and animal lovers and researchers would be able to come here to study the pachyderm.
''I am so moved. This is the realisation of the 40-year-old dream of the mahout community," Elephant Owners' Association president Abdul Rashid said.
Amer fort has 113 elephants which are used to ferry tourists around.
"The elephant ride is much in demand by both foreign and Indian tourists. Tourists feel like royalty when riding an elephant," says Shyam Gupta, vice-president of Elephant Owners' Association.
An elephant makes four rounds a day and earns 900 rupees ($20). From this, 200 rupees ($4.30) goes towards the welfare of the animal, Mr Gupta says.
The village has a man-made pond to provide water for the animals and a veterinary clinic.