Glee tour will not come to the UK in the near future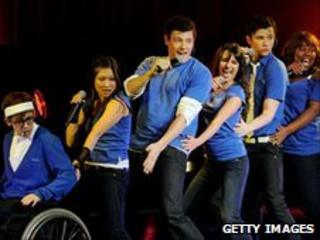 The producer of hit US TV show Glee has ruled out a UK stage tour because he wants to focus on the next series of the Golden Globe-winning programme.
The cast played seven US dates earlier this year. Speaking to Music Week, Dante Di Loreto said a UK tour would be considered in the future.
"We would like to do shows in the UK and Ireland but it is a question of when we could do it.
"We need to make more of the TV show, that comes first," he said.
"We had a terrific time with the live concert and I am sure we would like to do more of that," Di Loreto told the trade paper.
"The problem is finding the time to do it."
Film rumours
The show, which follows a school choir - or Glee club, has been a huge success in the US, winning a Golden Globe award for best television series.
In the UK, Glee has proved to be equally popular with audiences and has spawned a number of hits in the singles chart and a chart-topping album.
According to reports, a Glee film is planned but Matthew Morrison, who plays teacher Will Schuester in the show, told BBC Breakfast the rumours are not true.
"I feel like I'm in high school, there are so many rumours surrounding the show," he said.
The actor, who confirmed two more series have been commissioned, said the reason Glee has been so successful is because there is "something in the show for everyone".