Anti-social behaviour closes Derry GAA pitch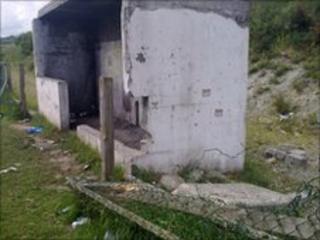 A meeting is to take place in Londonderry later to discuss the closure of a gaelic football ground for health and safety reasons.
The Sean Dolans ground in Creggan was shut by the County Board after a spate of anti-social behaviour.
Club Secretary Damien McKane said crowds of young people were congregating on club grounds at night.
The club could also lose its chance to host part of an upcoming all-Ireland football festival.
"The pitch itself is in good enough order, an playable, but the surrounding area leaves a lot to be desired," continued McKane.
"There is a continuing problem with vandalism, underage drinking and solvent abuse.
"At the weekends, during the summers, we have maybe 50 or 60, maybe even up to 100, teenagers coming here with there blue bags and it's nearly run as a bar."
The club, through its own funds, has tried to repair the damage.
"There is broken glass in and around the dug outs, the dug outs are pulled down, the fences are pulled down," said Mr McKane.
"The four lights outside the changing rooms have been replaced three time in the last month. They usually last about two days."
Sean Dolans is to play host to young gaelic footballers from Mayo during the All-Ireland competition being held across Derry during the first week of July.
"County Board closed the pitch on health and safety grounds, and while we're a wee bit angry at that, I can understand that," added Mr McKane.
The club said that repairs to the grounds will be carried out until a few days before the beginning of the competition to give it the best possible chance to take part.