What happens if welfare and benefits are cut?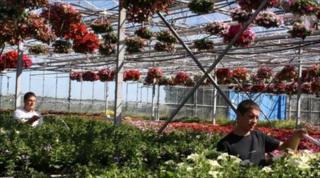 In a huge greenhouse on the outskirts of Hartlepool, Gavin Parish and Danny Carlton are working.
They are watering row after row of bedding plants, getting them ready for the long trip to the garden centre. With the sun peeping through the clouds, growing conditions are perfect.
But in recent years, the economic climate - at least for this pair - has been rather more gloomy.
Both have six months of subsidised work in the plant nursery under the Future Jobs Fund but the coalition government's decision to scrap the scheme next year means there is no chance of more placements for them.
And since they each spent a year out of work before joining the scheme - after losing their jobs in the building trade - they are worried about finding themselves back on Jobseekers' Allowance.
"There are hundreds and thousands of people out there looking for work and with the jobs being so limited there is not much chance," says 23-year-old Gavin.
He is not impressed by the government's decision to scrap the Future Jobs Fund scheme.
"I think it's a bad idea," he says. "I think this is a great opportunity for everyone".
'Getting nowhere'
Danny Carlton is 24 and qualified as a joiner before losing his job.
He's also enjoying his time as trainee at the plant nursery but is worried about his chances back in the jobs market.
"When I found out about everyone getting laid off I thought it would be alright - I'd get another job straight away because I'd do anything".
But Danny says he is getting nowhere, even when applying for cleaning jobs.
"They wanted someone with experience, an older person," he explains.
So is this competition for jobs about to get even tougher as the government's axe falls on public spending?
North-east England is, after all, a region which is particularly reliant on public sector employment and investment. It's an area that already has one of the highest unemployment rates in the country.
'Being lazy'
Eight miles up the coast, in the former pit village of Horden, there is an advice centre run by Acumen, an organisation that specialises in regeneration and getting people back to work.
Carol Gash, an employment advisor at the centre, says jobs were currently attracting between 200 and 300 applications each and that public sector vacancies were "non-existent at the moment."
In the centre itself, 31-year-old Steve has never had a job. He was dropping into the centre looking for help to find work.
He says his applications don't even get a reply and he blames his lack of experience.
"I haven't done much. That's my own fault for being lazy I suppose," he admits.
"But now the time has come that I want to get work and get a good job to save money I'm finding it hard to get that job in the first place."
Acumen's chief executive, Kate Welch, fears the situation may be about to get worse.
"What we are seeing at the moment is a freeze on recruitment so no more public sector jobs out there, so that reduces the opportunities," she says.
"And we are just beginning to see redundancies coming into play in terms of people being laid off from the public sector.
"So what you have then got is less job opportunities and the private sector is not active and buoyant enough in this area to replace those public sector opportunities. It's a really difficult labour market again."
There is also concern about the impact of the government's proposed tightening of the welfare system in an area where large numbers are in receipt of benefits.
Ms Welch says the cash from this support is keeping some of our poorest neighbourhoods afloat.
"There are communities in this area where there are high proportions of people on benefit so you might have 70% plus people living on housing benefit," she says.
"If that's the only income into a family and that's cut, then that has a massive multiplier effect on the whole economy."