£2m Lotto winners to leave jobs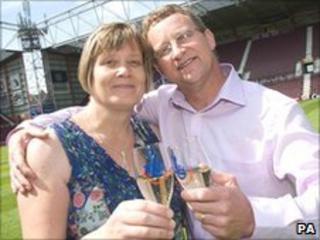 An East Lothian couple who are the latest millionaire Lotto winners have told how they are planning to quit their jobs.
Brian and Ann Sharp, both 48, from Musselburgh, said they called their three children home when they heard the news and sat up all night.
The pair won £2,033,705 on Saturday. Four winners shared £8.1m for matching all six numbers.
The winning numbers were 42, 47, 41, 39, 37 and 34 with the bonus number 45.
Mrs Sharp was at home alone watching the draw live on BBC1 when she realised they had won. She said: "I felt like I was in a big bubble.
"I kept pinching myself because I thought I was dreaming. I called Brian and my voice was shaking so he knew I wasn't joking."
Mr Sharp, an electrician for RBS at Gogarburn, was on shift when Mrs Sharp called.
"I left work early to let the news sink in and then we sat up all night with the family, planning our next move."
The couple told their three children, Leanne, 21, Lauren, 18, and Graeme, 23, over the phone.
Their daughters were on their way to help at the Moonwalk in Edinburgh but were so excited they got straight back on the bus home.
Silver wedding
Their son was at a friend's barbecue but went home when his mother called with the news.
Mr Sharp said: "Ann is hoping to give up work immediately but I need to hang on until a replacement is found for me since I work with high voltage equipment and don't want to leave them in the lurch.
"We haven't decided what we are going to do with our winnings yet. We are definitely planning to buy a new house and since it's our Silver wedding anniversary later in the year we hope to go on a special holiday, maybe to Australia or America.
"We are still waiting on the wish list from the kids so who knows what that will involve."
As lifelong supporters of Hearts Football Club the couple plan to buy season tickets for themselves and their friends.
Other spending plans for the family include a major shopping spree and a new car.
In April Robert and Susan McIntosh, from Aberdeenshire, won £4.4m on a lucky dip ticket.
In March this year a lottery winner in the Highlands missed out on a £3.7m jackpot by failing to claim the prize.