Family mourns Afghanistan marine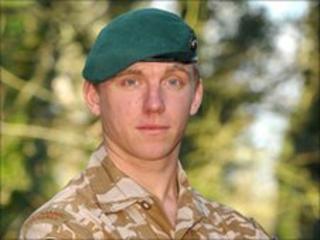 The family of the marine who was the 300th member of the UK forces to die after being wounded in a blast in Afghanistan have paid tribute to him.
Marine Richard Hollington, 23, of Petersfield, in Hampshire, who served in 40 Commando, "lived as a lion", his family said.
He died in hospital on Sunday after being injured in Helmand on 12 June.
Another marine died in a blast in Helmand on Monday night, taking the death toll up to 301.
'Proud of him'
Marine Hollington died from his wounds in the Queen Elizabeth Hospital in Birmingham on Sunday morning, with his parents and two brothers by his side.
In a statement, his family said he would leave "a huge numbing hole in the lives of his family, friends and Royal Marine colleagues".
They said: "The saying goes, 'It is better to live one day as a lion than your whole life as a worm'.
"He chose to live his days as a lion and to us, and we believe his friends, he was the biggest, if softest, lion in the pride - how proud of him we all are.
"It was typical of Richard, and a crumb of comfort to us, that even in death he donated his organs to help others in accordance with his wishes."
Marine Hollington leaves behind his parents and younger brothers Nick and Charlie.
'Extraordinary courage'
He deployed to the Sangin district of Helmand province, southern Afghanistan, in April.
As a member of Bravo Company, he had been conducting joint operations with the Afghan National Security Forces.
Lt Col Paul James, commanding officer 40 Commando Group, Combined Force Sangin, said Marine Hollington was "one of my finest".
He said: "It takes extraordinary courage to be at the front of every patrol but Marine Hollington did so with the professional pride that gave confidence to others.
"He was a strong and resilient man with an immense personality."
'Pure gold'
Maj Mark Totten said he "brimmed with character and potential" and had an "irrepressible sense of fun and lust for life".
Referring to him as "Dickie", Maj Totten said: "Men like Dickie are pure gold in a patrol base here in Afghanistan."
And he said the marine's "infectious" optimism was shown by his "100% certainty in recent days that England would win the World Cup".
The vicar of the village where Marine Hollington lived said the community would support his family.
Rev John Owen, of Stroud Church, said he had seen the marine's mother, Jenny, before she went to see her son in hospital.
Mr Owen said: "They are a well-respected family in the community. It's obviously a very tragic time and the whole community feels for them, particularly as many are service families in the area.
"The whole community is giving support."