Andy Burnham makes Scots election victory priority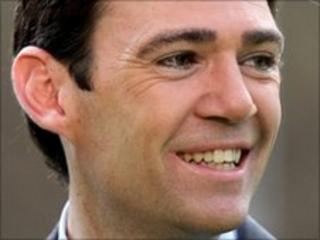 Labour leadership contender Andy Burnham says helping the party win next year's Scottish Parliament election would be his first priority.
The Leigh MPs comments came as he visited Holyrood, after rival David Miliband made the same trip.
All the main candidates to replace Gordon Brown have committed to giving Scottish Labour more of a say in running the UK party.
Despite Labour losing the election, its vote held up in Scotland.
It emerged as by far the largest party, winning 41 out of 59 seats.
Mr Burnham, who was meeting Labour MSPs, said his "first priority" as leader would be to help the party regain power after next May's Scottish election, won by the SNP in 2007.
'Every confidence'
He said: "It will show to the whole of the UK that Labour is coming back.
"That means getting the relationship right between London and Edinburgh and ensuring that the party here have all of the support they need to fight a winning election campaign.
"I've every confidence that we will do that."
Labour's new leader will be chosen in September by an electoral college system made up of Labour MPs and MEPs, party members and members of affiliated unions and other affiliated organisations.
Labour MSPs currently do not have the same level of say on who becomes UK party leader as their Westminster and European member counterparts.
The other Labour leadership contenders are former ministers David Miliband, his brother, Ed, Ed Balls, and backbencher Diane Abbot.