Talking Shop: Glee's Matthew Morrison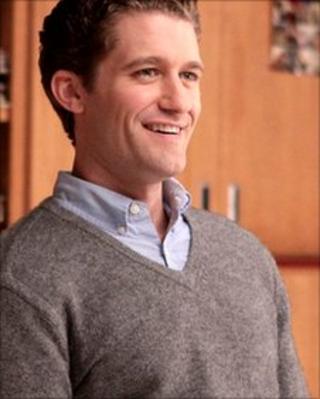 Actor Matthew Morrison has shot to global fame in the past year in the US hit TV show Glee.
But for a decade before, he was known as a respected Broadway stage star, earning a best actor Tony nomination in 2005 for his performance in The Light in the Piazza.
After a few bit parts in film and TV shows he landed his Glee role as Mr Schuester, a teacher trying to bring his high school show choir back to its glory days.
The show's success has enabled him to land a solo record deal that will see his debut album released in the autumn.
Did you ever imagine when you were filming the pilot for Glee that it would be this successful?
Yes, I knew right away! No, when we were doing it we all felt like we were part of something special - there was just something in the air. It was different and fresh.
I thought it would just get a niche audience but I didn't think it would be like this. This is overwhelming and phenomenal and life-changing.
Are you feeling any pressure for season two of Glee to be as good as season one?
No, I don't feel any pressure because all I do is show up and say the lines and sing the songs. I think the pressure is more with the writers than with me. We have set the bar really high, so it's going to be hard to maintain that level of writing on the show.
Do you think TV seasons are too long in the US at 20-odd shows? There can be quite a few filler episodes.
Financially, the more episodes you do, the more advertising a network gets, so I think that's the norm now. I'm still new to this whole thing, so I'll do whatever you want me to do!
There are definitely some filler episodes. I don't think we try to, but sometimes you can't be great at that level all the time. It's hard to maintain that.
Tell me a bit about the two new characters creator Ryan Murphy has cast through open auditions.
I couldn't tell you a single thing about it. They've just started writing the first episode of season two and we don't start shooting until the end of July.
All I know is they had the worldwide search and they narrowed it down to like 5,000 or something, and the casting director is sorting through that.
What's your feeling about the US Parent Television Council's criticism that the show is "an edgy, sexually-charged adult series that is inappropriate for teenagers"?
You can't do anything in this world without getting a negative reaction and you can't please everyone. I know people that don't like the show [but] it's just what it is. I think there are more people that do like the show, though!
The show has generated a number one album, Top 10 singles, a Screen Actor's Guild award and a Golden Globe nomination...
My life has changed so drastically. It's been a year of learning what it's like to deal with a certain level of fame. It's been challenging - but this is what I've worked so hard my whole life for, so I'm enjoying it as well.
Do you find it somewhat ironic that actors from the stage struggle to get roles in TV and film - yet the role that has given you the most success has utilised all your Broadway skills?
I guess so. In the 1920s that's all it was, you know? Gene Kelly, Fred Astaire and Ginger Rogers - they did it all, stage and film and television. Everything goes in cycles and I feel like we're in a place right now where there is a lot of crossover with stage actors.
There are so many stage actors on TV but you wouldn't know they were stage actors. And film and TV actors are going to the stage as well, so the crossover is great now.
And you performed at the Tonys recently too. Did it feel a bit like you were going backwards?
That was going forwards for me. I love this TV show and it's definitely created a huge amount of success for me, but those were the people I wanted to impress - those were my peers and I was very excited for that and very nervous as well.
Where did the rumour you're related to John Wayne come from?
I made it up! Well, his real name is Marion Morrison and it's something that's talked about in my family, that he's kind of related, but I think it's very distant. I will perpetuate that rumour, though!
I was looking at other famous Morrisons and was wondering if you might be related to them... Jim Morrison?
No.
Van Morrison?
No.
James Morrison?
He's a singer, right? No.
All the famous Morrisons seem to be singers...
Do you know Tommy Morrison? He's a boxer.
Never heard of him.
Do you know Tom Morrison?
There's a Tom Morrison?
Yeah, he's my dad - he's famous to me!
Matthew Morrison was speaking to BBC entertainment reporter Genevieve Hassan.