Huw Vaughan Thomas is candidate for new auditor general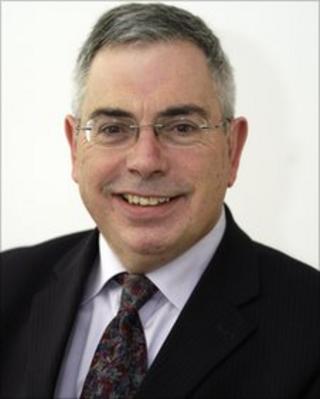 A former top civil servant and council chief executive has been chosen as the preferred candidate to become Wales' new auditor general.
Huw Vaughan Thomas, a former chief executive of Gwynedd and Denbighshire councils, is currently chair of Big Lottery Fund Wales.
Subject to formal nomination and approval, Mr Vaughan Thomas will succeed Jeremy Colman.
Interim auditor Gillian Body welcomed the announcement.
The Auditor General for Wales heads the Wales Audit Office, which is independent of government and is responsible for the annual audit of some £20bn of annual public expenditure.
Four candidates for the role were shortlisted and then interviewed by a panel that included three members of the assembly's Public Accounts Committee (PAC).
Mr Thomas' appointment is still subject to formal nomination by the PAC, assembly members and final approval by The Queen.
"It would be a great honour and privilege to be successfully appointed auditor general for Wales," said Mr Thomas.
"The role offers many challenges, particularly at a time when there is a lot of focus on public finances and how public money is spent.
"But there is already a very talented team in place at the Wales audit office and, if successful, I would be excited by the opportunity of working with them."
PAC chairman Jonathan Morgan AM described the role of auditor general as "one of the most high-profile and influential positions in Wales".
"(Mr Thomas') background in the public sector was key in our decision to put (him) forward for approval by the committee," he said.
'Challenging times'
Interim auditor general, Gillian Body, said: "We will do all we can to support him in leading the Wales audit office in what are challenging times for the public sector in Wales.
"Now, more than ever, the office of auditor general is a vital one in promoting improvements to public services across Wales, so that people who live here benefit from accountable, well-managed services that offer the best possible value for money."
Ms Body took up her role in February to fill in for Mr Colman, who earlier this month appeared in court denying 14 counts of making and possessing indecent images of children.
Mr Colman stepped down from his job in February while police investigated allegations relating to his office computer.