Tesco wants Asda's Tain store approval reviewed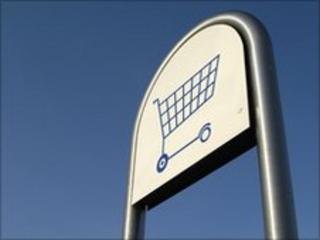 Tesco has sought a judicial review of Highland Council's approval of an Asda supermarket in Tain.
Asda, which has no stores in the Highlands, said it was disappointed by its competitor's decision to take the matter to court.
An Asda spokeswoman said the chain hoped the local authority would "rigorously defend" the granting of planning permission.
Tesco already has permission to build a store in the Ross-shire town.
It secured planning permission from the Scottish government.
Tesco said the decision to mount a legal challenge against the Asda store was not taken lightly.
An Asda spokesman said: "We have worked with the local authority and the local community every step of the way throughout our application to ensure our plans are both proportionate and appropriate for Tain.
"The council unanimously supported our application at committee and we would expect them to rigorously defend their decision in court. Once we have reviewed the papers, it is our intention to support this course of action."
Tesco said: "Our decision to lodge a legal challenge to the planning committees decision is not one that we take lightly.
"We believe this decision made by members, against officers' recommendation, is flawed."