Audit Scotland report due on clan event firm's collapse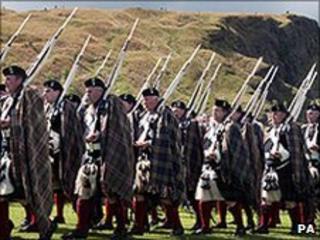 Scotland's public spending watchdog is issuing the findings of a probe into the collapsed firm behind last year's clan gathering event in Edinburgh.
Almost £500,000 of taxpayers' cash was handed to The Gathering 2009 Ltd, the company behind the centrepiece of last year's Homecoming celebrations.
But it went bust, despite an £180,000 emergency Scottish government loan, which was later written off.
The Gathering boosted the economy by £10m, but made a £600,000 loss.
Audit Scotland is now issuing a report into the problems because of the level of public funding involved.
The Gathering was a Highland games-style event held in the grounds of Edinburgh's Holyrood park last summer.
Cash owed
It was the showpiece event during the year-long Homecoming Scotland campaign, which used the 250th anniversary of the birth of Robert Burns to attract tourists with Scots connections.
A total of £490,500 was initially invested by the Scottish government, VisitScotland, Edinburgh City Council, Scottish Enterprise and the Heritage Lottery fund.
Following the problems, several other agencies, including the police and ambulance service, decided against recovering the cash they were owed, partly to help secure the future of The Gathering.
Audit Scotland has raised concerns about whether the budget and rising costs of the event were properly monitored, and said there were questions to be asked about the government's "untypical" short-term, interest-free £180,000 loan to "assist a private sector company manage its cash-flow problems".
In January, it emerged 50 Edinburgh companies were owed about £300,000 in connection with the event, although money due to private firms falls outside the watchdog's remit.