House where Nelson given Haverfordwest honour for sale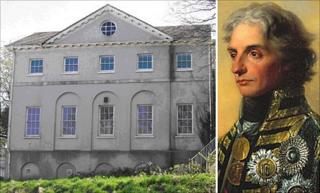 A Georgian town house where Lord Nelson received the Freedom of Haverfordwest is up for sale.
Hundreds of people cheered the admiral when he emerged on the balcony at Foley House following the ceremony.
He toured Pembrokeshire in the summer of 1802 during a brief respite in the war with France.
The Grade II listed building, previously used as court and council offices, is being sold by Pembrokeshire council.
Located in the centre of the town it was built in the 1790s as a gentleman's residence for solicitor Richard Foley.
He was the brother of Admiral Sir Thomas Foley, who served with Lord Nelson and accompanied him on the tour.
Designed by renowned architect John Nash it is one of the earliest examples of his domestic buildings.
The council said the house, and its adjoining cottage, was now surplus to requirements.
Naval historian Ted Goddard said Nelson's tour of Pembrokeshire was a big event for the county.
"In 1802 there was a brief period of peace between Britain and France," he said.
Nelson and his party spent around two weeks touring Pembrokeshire.
"Apparently when they arrived in Haverfordwest most of the town's population turned out to welcome them," added Mr Goddard.
"It was a huge occasion. Nelson was the big hero of the country and he was very much a man of the people.
"After the ceremony they appeared on the balcony at Foley House to receive the congratulations of the town's people."
The council is seeking expressions of interest in the house.
It said the four-storey building, which consists mainly of office and storage space at the moment, would be suitable for office, residential or institutional use, subject to planning consent.
The house was most recently used as offices by organisers of the National Eisteddfod at St David's in 2002.