Rail passengers 'more satisfied'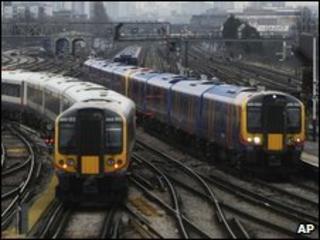 Rail passengers are growing more satisfied with train travel, according to a national passenger survey by rail customer watchdog Passenger Focus.
Some 83% of the 31,000 rail users questioned were happy with their rail journey - a 2% rise since spring 2009.
However, less than half - 48% - felt their rail ticket was value for money, although this was up from 40%.
Passenger Focus said passengers were "more satisfied", but the gap between good and weaker services was "wide".
The survey found those satisfied with punctuality and reliability had risen from 80% in spring last year to 82% in spring 2010.
It also revealed that satisfaction with the comfort of carriages - whether there was sufficient room to stand or sit - was up from 66% to 68% over the same period.
However, passengers continued to have concerns with the industry's handling of delays, with satisfaction levels in this category unchanged at just 35%.
Where individual train companies were concerned, the Wrexham & Shropshire company had the highest overall satisfaction figure - of 99%.
Grand Central and Merseyrail also scored highly, with satisfaction rates of 94% and 93% respectively.
Meanwhile, the lowest ratings for overall satisfaction was given to London Overground, at 72%.
First Capital Connect and National Express East Anglia also scored poorly - with respective satisfaction figures of 76% and 77%.
Commenting on the findings, Passenger Focus chief executive Anthony Smith said: "As more trains arrive on time, Britain's rail passengers are becoming more satisfied.
"Last year's inflation figure halted the normal New Year season ticket price hike which improved many train companies' value for money scores.
"However, the gap between the good and weaker performers remains wide."
'Positive'
Meanwhile, Office of Rail Regulation chairman Anna Walker said that although it was "positive" to see "good levels of passenger satisfaction", it was clear that "passengers continue to voice familiar concerns".
"They are still dissatisfied with facilities and services at stations and on trains, the availability of staff and how well train companies deal with delays," she said, adding that "current satisfaction levels fall far short of where they need to be".
Similarly, Gerry Doherty, leader of the TSSA rail union, said: "The key finding is that fewer than half of passengers believe their journey represents value for money.
"This is because we still have the most expensive rail fares in Europe under the system whereby private train operators put shareholders' interests ahead of passengers'".