Memorial service for Cumbria coach crash teenagers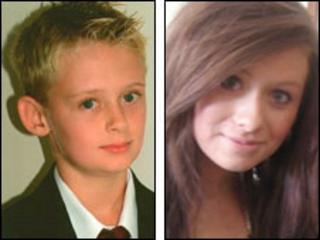 A memorial service is to be held for two teenagers who were killed in a coach crash on the A66 in Cumbria.
Keswick School pupils Chloe Walker, 16, and Kieran Goulding, 15, died when the 49-seater was in collision with a Honda Civic near Keswick on 24 May.
The driver of the Honda, 68-year-old Patrick Short, was also killed.
The memorial service, which will be open to the public, will be held at Crosthwaite Church, Keswick, at 1900 BST on 30 June.
Pupils, staff and parents are expected to attend the service, which will be led by Reverend Stuart Penny.
Celebrating life
Emergency service staff who played a role in dealing with the tragedy have also been invited.
Keswick School head master Mike Chapman said: "The service will celebrate the lives of Chloe and Kieran as well as giving thanks to those who played such an important role in dealing with the tragedy."
A spokesperson for the Goulding family said: "Kieran was kind and caring, loving and sharing, which was the meaning of his name.
"He was a fun-loving boy, full of life and lived life to the full."
Chloe's parents Sharon and John Walker said: "Chloe was a fantastic daughter.
"She was vibrant, beautiful, talented and a very witty young lady."
Chloe died on the day she celebrated her 16th birthday. Her death was the second tragedy to hit the family.
In 2007 Chloe's brother Jordan died from the degenerative condition Sanfilippo syndrome.