Free Festival loses its £15,000 sponsor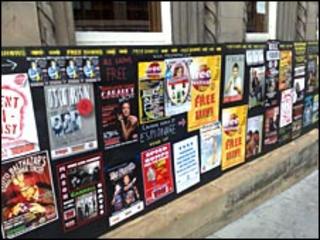 One of the promoters of free shows in the Fringe has lost its largest sponsor just weeks before the event kicks off in Edinburgh.
A five-figure sponsor for this year's Laughing Horse Free Festival has fallen through, its director has confirmed to the BBC Scotland news website.
The promoter has now launched a closed bid auction for sponsorship in the hope of securing £15,000.
The money is needed for marketing the free shows and for upgrading venues.
The Laughing Horse Free Festival's director, Alex Petty, said the festival would still go ahead when he opened the auction.
He said: "We are taking bids for sponsorship in a closed bid auction. The sponsorship will go to the highest bidder, and the last date for bids is 7 July 2010.
"The new sponsor will be able to have their name in the title of the Free Festival, on the programme, on venue banners and posters.
"We will be looking for bids of four and five figure sums."
Laughing Horse has been managing the Edinburgh Free Festival for seven years. It now accounts for 10% of the entire Edinburgh Fringe programme, and this year has more than 300 shows across 22 stages in 14 venues compared with 234 shows last year.
The other promoter of free shows in The Fringe is The Free Fringe, which was founded by Peter Buckley Hill 13 years ago.