Wales Millennium Centre's free armed forces tickets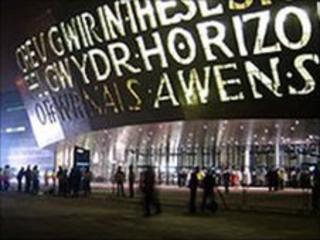 A Cardiff venue is to become the first in Wales to give free tickets for some of its top shows to serving members of the armed forces and injured veterans.
The Wales Millennium Centre (WMC) will join the Tickets for Troops scheme from Saturday.
The Cardiff Blues and Cardiff Devils rugby and ice hockey teams also pledged their support for the offer.
"It's a great way to support the UK's troops and their families," said WMC's Fiona Allan.
Established in 2009, the Tickets for Troops charity offers free tickets for major cultural, sporting and musical events to the UK's soldiers, sailors and airmen, and their families.
Other UK venues such as the Royal Opera House and the O2 Arena in London already support the scheme.
The announcement comes as Wales prepares to host the UK-wide Armed Forces Day for the first time on Saturday.
During the day, people will have the opportunity to show their support for the servicemen and women as they parade through the streets of Cardiff.
'Bringing families together'
Under the scheme WMC will offer tickets to family shows, musicals and performances of contemporary dance, including The Snowman, Mamma Mia! and Monty Python's Spamalot.
Ms Allan, WMC's artistic director, said: "Many of our servicemen and women are away from their loved ones for long periods of time.
"I hope that this will go some way in bringing families together and experience the best of arts and culture that the centre has to offer."
Jonathan Mervis, director of Tickets For Troops, whose patron is Samantha Cameron, the prime minister's wife, said he was pleased WMC would support the scheme.
"Tickets for Troops is beginning to make a real difference to the lives of so many courageous serving men and women and their families.
"I know all our troops will enjoy hugely their visits to the productions at the centre."