Bail refused in paramilitary 'drugs fine' case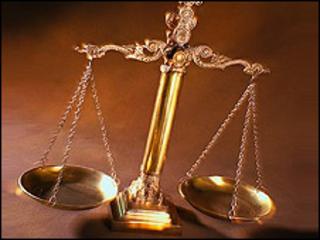 A couple have been forced out of NI by alleged threats over a £10,000 'fine' owed to loyalist paramilitaries, a High Court bail hearing has heard.
Crown lawyers said men claiming to be from the Ulster Defence Association said their house would be burned and one victim shot if police were told.
More than £6,000 was handed over before police made arrests, a judge was told.
Glen Benson, 39, of Barnagh Park, Donaghadee, who faces a blackmail charge, was refused bail.
Police believe those involved in the alleged intimidation were part of a crime gang targeting people in Newtownards and the wider North Down area.
Refusing the application for bail, Mr Justice Treacy said: "Blackmail is a particularly vicious crime and in this case the police view is that this was an organised criminal gang who, on the face of it, were purporting to act on behalf of a proscribed organisation."
According to the prosecution, Witness A said he was approached by men claiming to represent the UDA last September and October.
He was informed that he had a £10,000 fine to pay for alleged drug-dealing and his home would be destroyed by fire if it was not settled, the court heard.
At one stage the two alleged victims did flee their home and slept in their car, it was alleged.