Teenage Oxfordshire twins both join the Army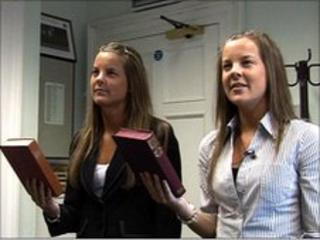 A pair of Oxfordshire twins have both joined the Army as military police recruits on the same day.
Twins Ella and Kate Gorman, 19, from Witney, enlisted in the Army with an Oath of Allegiance at 1000 BST.
They are following in the footsteps of their father, Wing Cdr Nigel Gorman, who has served in the RAF for 23 years.
Ella said: "We applied for uni, but there wasn't a course that we really wanted to do. The Army just seemed more of a challenge."
Kate will start her training at Pirbright barracks in two weeks' time, six weeks before Ella.