The Yorkshire Regiment parades through Barnsley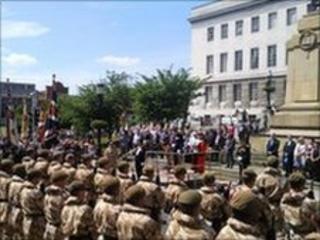 Soldiers from the 3rd Battalion the Yorkshire Regiment have marched through Barnsley to exercise their freedom of the town.
They paraded from Churchfield car park to the town hall where speeches were made by local dignitaries.
Residents cheered as they continued their march through the town centre before ending back at the town hall.
Some of the soldiers have recently returned from a tour of duty in Afghanistan.
An MoD spokesperson said: "The reception in Barnsley was second to none.
"The quality of support and strength of feeling has been fantastic."
The Yorkshire Regiment attended a special service in York Minster on 19 June where their new regimental colours were blessed.
The Yorkshire Regiment was formed in 2006 from the merger of three infantry regiments: The Prince of Wales's Own Regiment of Yorkshire, The Green Howards and The Duke of Wellington's Regiment.