Energy plans 'could create thousands of jobs in Wales'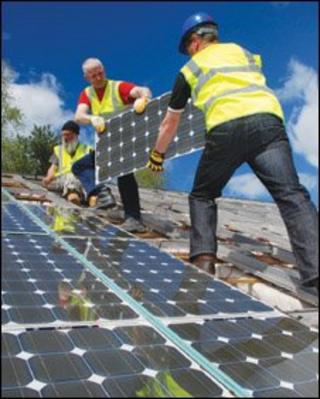 Thousands of new jobs could be created in Wales to help cut greenhouse gas emissions to zero, it is claimed.
A report by the Centre for Alternative Technology (CAT) says young people can be trained and industry boosted by its plan to eliminate emissions by 2030.
CAT, based in Machynlleth in Powys, is due to launch its report, zerocarbonbritain2030, at the Senedd.
The Welsh Assembly Government has welcomed the report, which suggests greater use of Wales' coastal energy.
The report is a UK-wide strategy to eliminate emissions for all greenhouse gases and across all sectors in the UK.
Cavity walls
Industry experts and academics at universities including Cardiff and Aberystwyth were consulted ahead of the report.
Among the aims are to dramatically reduce transport energy use by, for example, switching from petrol and diesel to electric and battery-powered vehicles, and replacing domestic and short-haul flights with rail and bus services.
CAT also wants to see all cavity walls and lofts in the UK insulated.
CAT external relations director Paul Allen said achieving the aims of zerocarbonbritain2030 could be a "win-win" situation.
"Wales enjoys abundant renewable resources. By moving towards a zero carbon Wales we can create thousands of new jobs, enjoy greater energy security and a more sustainable, dynamic and resilient Welsh economy," he said.
"We have been asking industries what is achievable so the vision that comes out is grounded in reality.
Budget
"Lots of people are asking us difficult questions and scrutinising the report and that's exactly what we want to happen. It's about raising the debate."
Mr Allen added that, in view of the UK coalition government's budget, an alternative to the expensive future option of importing energy had to be found.
"Britain has the gas and oil at the moment but these reserves are declining rapidly and, as we get towards 2030, they will be a small percentage of what they are now," he said.
"But we could have all the energy from Britain's coast.
"Wales could be manufacturing; Corus could be making wind turbines.
"We could be training young people to insulate houses.
"If we don't do it, we'll be in a perilous position. If we super-insulate houses and train people to do it, we won't be dependent on gas at all."
Zerocarbonbritain 2030 has been welcomed by the assembly government, with environment minister Jane Davidson due to speak at the launch on Wednesday.
Carbon footprint
"The assembly government welcomes this report from the Centre for Alternative Technology which sets out how we can move to a zero carbon society by 2030," said a spokeswoman.
"There is no doubt that is a very challenging target, but the assembly government is committed to helping Wales to drastically reduce its carbon footprint.
"Just this week the Environment Minister Jane Davidson launched 'Towards Zero Waste', which sets our ambition to achieve 70% recycling by 2025 and to become a zero waste country by 2050.
"We have also invested heavily in making homes in Wales more fuel efficient.
"In the autumn the environment minister will launch the climate change strategy, which will outline further measures to deliver green house gas emission cuts from a range of sectors."