Budget: Northern Ireland figures react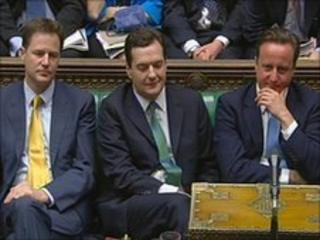 Chancellor George Osborne has unveiled the biggest package of tax increases and spending cuts in a generation.
Mr Osborne said his "tough but fair" Budget was "unavoidable", and told the Commons he would publish a paper on rebalancing the Northern Ireland economy later this year.
Public bodies and politicians in Northern Ireland have been giving their reaction to Mr Osborne's debut Budget.
Owen Paterson, Northern Ireland Secretary
"Failure to tackle the deficit would lead to disastrous increases in interest and mortgage rates. This would have catastrophic consequences for everybody in Northern Ireland.
"Businesses across Northern Ireland will benefit from the reductions in corporation tax for the UK as a whole. The Chancellor's introduction of an employer National Insurance holiday for the first ten employees of any new business should assist over 15,000 local firms.
"Reversing the previous administration's proposed jobs tax will benefit the economy and will also save around £80m in Northern Ireland.
"The Enterprise Guarantee Scheme - which has already helped 133 businesses in NI and resulted in £19.7 million of loan offers - will be significantly increased.
"In addition the government has re-affirmed its commitment to rebalancing the Northern Ireland economy to boost the private sector.
"Working closely with the Northern Ireland Executive, we will publish a consultation paper in the autumn. This will look at mechanisms for giving NI a different rate of corporation tax and other economic reform options.
"I recognise that some of today's measures will be difficult for all of us in Northern Ireland. Yet every part of the United Kingdom has to play its part in reducing the deficit and ensuring our recovery. Northern Ireland is no exception."
Sammy Wilson, Stormont Finance Minister
"One has to look at where Northern Ireland is on the economic cycle at present.
"We do lag behind, we are still on the downward part of the economic cycle and all of the indices, whether it is output, employment, forward orders, investment or whatever, all of the indices show that we are still on the downward slide.
"The concern which we will have will be the attempts ... to restructure the economy and the impact this could have.
"Whilst growth might occur in the rest of the UK, we might find ourselves still stuck in a recession because of the particular circumstances which there are."
Nigel Dodds, DUP deputy leader
"In Northern Ireland people will rightly look at the Budget through the prism of David Cameron's comments in the General Election campaign when pointed out that Northern Ireland is heavily dependent upon the public sector, but there was a clear implication that Northern Ireland and other regions would be targeted for cuts.
"Northern Ireland lags behind other areas of the UK in the economic cycle and there is a real fear that actions taken such as the increase in VAT will impact harder in Northern Ireland.
"Whilst all the cuts in public spending will impact upon Northern Ireland, there are few concrete proposals to help with the rebalancing of the Northern Ireland economy which is talked about within the budget.
"It is welcome news that the Treasury is investigating proposals surrounding Corporation Tax and an enterprise zone; however, we have had papers before and at this stage we really need action. We all will be waiting to see just how quickly the reductions in public spending will be rebalanced by any of the proposals put forward within the budget.
"It is disappointing that Scotland has been selected for a pilot scheme in terms of rural fuel duty yet Northern Ireland is the only part of the UK with a land border. Many working in the fuel industry will be questioning why Scotland has been selected despite Northern Ireland bordering a country with lower fuel duty.
"Many of the cuts announced today will have to be managed and implemented locally by the Northern Ireland Assembly and it is now important that information from the government comes quickly to the regional administrations across the UK to allow proper planning to take place.
"When there is less money available for use then it must be used more efficiently, and for more efficient use to be made there must be proper planning in place to ensure that people see the minimum possible reductions in front-line services and the important functions which are delivered by departments here locally in Northern Ireland."
David McNarry, Ulster Unionist finance spokesman
"This will unfortunately mean cuts for Northern Ireland via the Barnett formula.
"The Northern Ireland Executive must now agree an immediate framework on how they are going to approach these reductions in a manner that protects frontline services and jobs. Although we do not have all the details yet, we must begin to plan immediately.
"The Executive must make a statement on the budget - they cannot continue with a 'head in the sand' mentality - this means the DUP and Sinn Fein finally showing some leadership.
"In light of the proposals to freeze public sector pay for two years, Sammy Wilson must immediately bring forward a paper to the Executive on public sector pay in Northern Ireland - a department by department approach is not the answer.
"There is a need for a responsible and workmanlike response to this Budget from the five parties in our Executive. I note and welcome the fact that health was ring-fenced in England and Wales - we must do the same."
Brian Campfield, NI Public Service Alliance (Nipsa)
"The government has shown its true colours, unashamedly, with a tax reduction for businesses and a hike in VAT for the population generally; a measure which will have a disproportionate impact on the poorer sections of our society," he said.
On the public sector pay freeze for those earning over £21,000, Mr Campfield said: "There is no justification whatsoever for this vindictive decision to single out low and medium paid public servants for what is effectively a real pay cut.
"The coalition government has promised that it is also going after public service pensions and any forced increase in contribution rates will result in a further cut in take-home pay.
"In Northern Ireland this will impact upon the economy as further spending power is removed from the equation. The private sector has never delivered sufficient jobs for the people of Northern Ireland so there is no reason to think that this budget will change that."
Richard Ramsey, Ulster Bank Chief Economist
"The government will make no further cuts to capital investment in gross public sector investment relative to the plans it inherited. We would urge the Stormont Executive to protect its capital investment plans as much as possible to limit the economic damage to the local economy.
"A consultation paper is due for release this autumn which will look at rebalancing the Northern Ireland economy. This is anticipated to provide more detail on the idea of turning NI into an 'Enterprise zone'. In addition, mechanisms for exploring a reduction in corporation tax alongside other economic reform options will be explored.
"Clearly, obtaining the status of an 'Enterprise zone', with an array of enhanced incentives, would be beneficial to the economy. However, the other side of the enterprise coin will be trying to tackle and dismantle NI's current status as a 'welfare benefit zone'.
"Without aggressively tackling the latter, Northern Ireland will fail to make meaningful progress in fostering a new entrepreneurial culture. Northern Ireland needs to look at more radical, region-specific solutions, to address our welfare dependency and economic inactivity.
"It is noted that number of Northern Ireland individuals neither in work or looking for work due to sickness (@90,000) is broadly the same size as the combined workforce currently employed in manufacturing and the financial services sector."
Ulster Cancer Foundation
"The Ulster Cancer Foundation believes the Chancellor has missed a great opportunity to increase duty on tobacco above inflation.
"Had he done so he would have reduced smoking especially in young people.
"This measure would have been popular with the public and provided substantial funding which could have supported smoking prevention and cessation services in local communities."
Glyn Roberts, NI Independent Retail Trade Association
"The VAT hike to 20%... could well result in a further drop in consumer spend, which could mean more unemployment and business closure such as we have seen with the Laser electronics firm.
"Reducing Corporation Tax is welcome, as is lowering National Insurance contributions for new-start businesses outside south east England. This is a positive step and we look forward to the Coalition's paper on the Northern Ireland economy.
"We have said that cuts were inevitable, but this Budget has cut too much, too soon and could stall an already very shaky recovery.
"While it is crucial that the government cut the deficit, we believe that this Budget may restrict business growth and confidence and postpone a real and meaningful recovery."
Pat McCartan, NI Confederation for Health and Social Care
"This budget starkly demonstrates what we already suspected: we will face difficult financial times for many years to come, and dealing with the consequences for health and social care will be extremely complex," said Mr McCartan, chair of the body which represents 20 organisations in the NI health and social care system.
"We must move forward creatively and with an evidence base to best meet the needs of our citizens.
"Northern Ireland faces higher health-related needs than in comparable areas in the rest of Britain; a disproportionate ageing population, massive inequalities in health across the province and service models which require modernisation.
"Clearly reducing the budget will have major implications. We therefore need our own debate and innovative solutions to address these issues."
Seamus McAleavey, NI Council for Voluntary Action
"This is a very tough budget and the full extent of its outcome will not become obvious until next year.
"The spending cuts in particular could see Northern Ireland lose £1bn or more over four years.
"That will mean public services will be cut and Northern Ireland will lose a substantial number of jobs."
Bryan Gray, NI Manufacturing
"While we welcome the reductions in corporation tax and national insurance which will help to preserve jobs, only time will tell if the increase in VAT will offset those benefits for companies making consumer goods.
"The measures designed to encourage new business start ups are to be welcomed and we eagerly await the Chancellor's proposals to further stimulate the private sector in areas such as Northern Ireland which are heavily dependent on public sector jobs.
"We believe that credible public sector finances are essential for recovery.
"The Chancellor's actions today have demonstrated to the financial markets that the UK is not going the way of Greece. This will allow interest rates and sterling to remain low allowing Northern Ireland manufacturers to invest and build their export base."
Ben Collins, Royal Institution of Chartered Surveyors NI
"As expected, today's emergency budget contains a range of tough measures that will result in significant challenges for the Northern Ireland economy and local households.
"This reiterates the important point that Northern Ireland must make better use of public money and assets, and ensure, as far as possible, that public money is directed into areas that will have the biggest economic impact.
"Notably, the UK Chancellor has provided reassurance that capital investment projects in GB will not be slashed. Whilst capital expenditure in Northern Ireland is the responsibility of the Northern Ireland Executive, we would hope that the local administration will take a similar approach to the one outlined by the Chancellor.
"Capital investment is essential to ensure that Northern Ireland has the necessary infrastructure to support competitiveness into the future. There is also a significant economic return from the construction activity involved in investing in capital projects."
Colin Neill, Pubs of Ulster
"While the industry welcomes today's announcement that there will be no new increases in wine, beer and spirit duty, we do so with caution.
"The Chancellor was unclear as to whether the previously-announced duty increases of 2% above inflation from 2013 will proceed and also confirmed a further review of taxation and the pricing of alcohol which he will report back on in the autumn.
"The current level of alcohol duty is already 25% higher than two years ago, meaning that publicans currently receive just 23 pence profit from the sale of a £3 pint of beer.
"Any further tax increases are unsustainable and will place the survival of pubs and the jobs of the 34,000 people working in the industry here in serious jeopardy."
Brian Lavery, CB Richard Ellis Commercial Real Estate
"For a market that is so reliant on the public sector, the pay freezes announced in today's Budget will undoubtedly impact negatively on the Northern Ireland economy.
"Increasing the VAT rate from 17.5% to 20% will also have a negative impact on the market in the region and further deter Euro shoppers from the Republic from shopping north of the border.
"While the measures announced today are painful, it must be remembered that these difficult decisions are necessary to effectively tackle debt and improve the UK deficit position.
"However, there are some elements of today's Budget that we welcome. We are very encouraged by plans to discuss reducing the rate of corporation tax rate in Northern Ireland as such a measure would enable us to compete more effectively with the Republic for investment and job creation."
Joe McHugh TD, Fine Gael
"Border retailers will welcome the announcement that British VAT is to rise from 17.5% to 20% next January. This may re-balance trade between the Republic of Ireland and Northern Ireland.
"But hoping that the euro stays weak against the British pound should not be a government policy.
"Last Thursday, Minister Brian Lenihan admitted that he did not meet with British Chancellor George Osborne or with NI Minister for Finance Sammy Wilson in the context of this British Budget. The government has no plan for Border trade or for all-island commerce.
"The governments must work together to help businesses through fiscal and monetary adjustment processes. This is why the North/South Ministerial Council was established. Border businesses and all-island markets must be able to plan in the long term."