'War' accusation over public spending cuts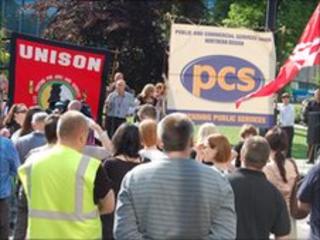 Union chiefs have accused the government of declaring war on the North East after announcing public sector cuts.
In Tuesday's budget it was revealed government departments must slash budgets by 25%.
Kenny Bell, from Unison, said the cuts would devastate the region where almost third of workers are employed in the public sector.
Unison held a protest march through Newcastle on Tuesday.
Mr Bell also said the cuts would devastate towns like Morpeth in Northumberland, where half the population relies on around 12,000, public sector jobs.
Around 6,000 people also work at the Department of Work and Pensions and HM Revenue and Customs in Longbenton, North Tyneside.
'Worse than we thought'
He said said: "We knew it was going to be bad but this is worse than we thought.
"This is a declaration of war from the Tory Government.
"It's a declaration of war on the public sector, on public sector workers and on working people generally."
Wansbeck in Northumberland has the second highest percentage of public sector workers with 47.8% and Durham third with 46%.