Mother tells baby assault trial of baptism decision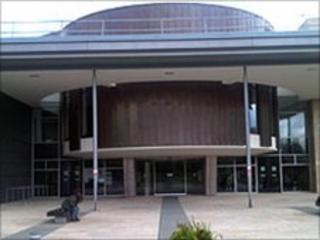 The mother of a six-week-old boy allegedly assaulted by a babysitter has told a trial how she felt she had to get him baptised in hospital.
The 29-year-old said she took the child to the Royal Aberdeen Children's Hospital after finding the baby "floppy" and "out of it".
The woman, who cannot be named, said she had left her son in the care of Raymond McPhee, 24, in August 2008.
Mr McPhee, appearing at the High Court in Livingston, denies attempted murder.
The woman said she decided that baptising the baby was the best decision after nurses told her they were concerned the baby was brain damaged and critically ill.
She told the jury on the second day of the trial: "I was very upset. I was hysterical because my baby was lying in a hospital bed severely ill.
"He was linked up to a monitor and I thought then it would be better to get him baptised."
She told the jury that her son was now brain damaged, and was also told by doctors that the baby was permanently and profoundly retarded.
Alison Di Rollo, prosecuting, asked: "Did your son sustain the injuries when he was in the care of Raymond?"
She replied: "Yes".
The mother broke down when the advocate depute asked if she thought the injuries were as a result of a malicious attack.
Medical attention
She said: "I don't want to think it was malicious."
She added: "I just want this all to be over."
Mr McPhee is alleged to have pinched the baby repeatedly on the head and body, struck him on the head, face and body, forced something into his mouth, squeezed the child and shook him, as well as restricting his breathing with a pillow, or by other means.
The alleged assault is said to have endangered the baby's life and left him severely injured, permanently disfigured, and permanently impaired.
McPhee further denies a second charge, of failing to get the baby medical attention.
The trial, before Lord Uist, continues.