Olympic land compensation test case in High Court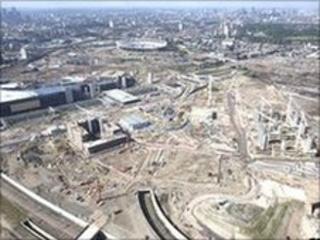 A legal test case has begun over land acquired for the Olympic Games, which could have implications worth tens of millions of pounds in compensation.
In 2005 building firm Rooff was issued a compulsory purchase order for land in Stratford, east London, to make way for the Olympic Village.
But the firm thinks it should have been given more compensation, which government planners reject.
If Rooff wins its High Court battle many more appeals could follow.
The case hinges on the classification of the land itself.
London Development Agency (LDA) planners argued the land was only suitable for business development, which means it would be worth less money.
'Classic brownfield'
But the company argues the land was also suitable for residential use and says it should therefore receive extra compensation.
John Hobson QC, appearing for Rooff, said: "It was a classic brownfield area that was awaiting beneficial regeneration and had been earmarked for that purpose.
"It was indeed shown that high quality, mixed-use development would have been the appropriate means of achieving that regeneration."
Some 70 small businesses forced to sell land have now launched negotiations with the LDA over their compensation payments.
Rooff is hoping the High Court judge will allow the issue to be reconsidered.
Mr Justice Blake is being asked to quash the 2009 decision of then Communities Secretary John Denham.
Mr Denham, Labour, upheld a planning inspector's dismissal of Rooff's original claim.