Keady cross-border road closed in security alert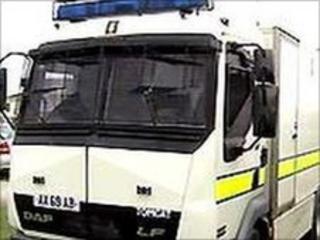 Police in South Armagh have cordoned off a five-mile stretch of road after a member of the public found a beer keg with wires attached.
The Castleblaney Road is cordoned off from its junction with Rafferty's Corner in Keady.
Six homes have been evacuated while at least one business has also closed.
It is believed a bomb warning was received on Monday. Local residents reported hearing significant helicopter activity above Keady on Monday evening.
Army experts are at the scene while Irish police are assisting the PSNI because the alert is close to the border.
Police are believed to be proceeding with "extreme caution".
SDLP Keady councillor Thomas O'Hanlon said the alert had caused "major distress" for residents, who have been told it is unlikely they will be allowed to return this evening.
He added: "The Castleblaney Road is a key cross-border route and its closure is bad for business and bad for the people of Keady who suffered enough down through the years due to pointless violence and destruction by the Provisional IRA."