Numerous leads pursued over pensioner injury inquiry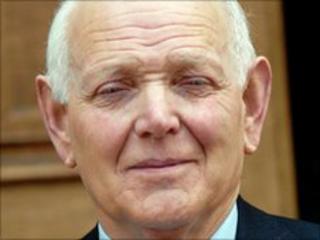 Police investigating how a 79-year-old man was seriously injured at his Aberdeenshire home have said they are pursuing "a number of leads".
Sandy Ingram, who lives in a remote location in Newmachar, was found lying in his garden with head injuries.
He had gone to investigate a sighting of two men in the grounds of his home on Saturday night.
Grampian Police said about 25 officers were now involved in the ongoing investigation.
Det Insp Richie Guild said: "We've received numerous reports of suspicious activity in and around the area of Sandy's home, both in the days leading up to the incident and in the weeks prior to the night of the incident.
"These sightings are being followed up along with other lines of enquiry we are developing."
'Come forward'
He explained: "Some of these incidents we are currently classing as suspicious may involve people who have had an entirely innocent reason for being in the area.
"We would still like them to come forward so they can be eliminated from our enquiries.
"I'd also like to appeal to the men who were at Sandy's address that night to come forward and tell us why they were there and what happened that night."
One of the two men is described as wearing a light-coloured baseball cap, possibly green, with a darker peak.
The other was said to be wearing dark clothing and had long, almost shoulder length, dark hair.