Budget news prompts game industry threat to leave UK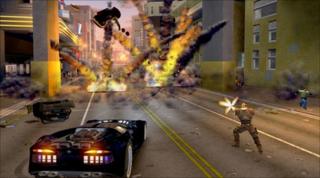 Video game companies in Dundee have reacted with dismay to the government's announcement that a tax break for the industry had been cancelled.
Chancellor George Osborne announced the measure as part of a budget focused on tax increases and spending cuts.
Colin MacDonald, from Realtime Worlds, said he was "hugely, hugely frustrated and disappointed".
He warned that many game publishers would be seriously considering moving away from the UK.
Mr MacDonald explained: "We would hate to move away but we're a business.
"When Canada is 40% cheaper and France has built-in tax credits, you're looking at saving millions a year.
"We have to take that seriously."
Mr MacDonald said many gaming companies would not be able to experiment and innovate, which would leave them falling behind in a global industry worth billions.
He added: "It was something that before the election, all the parties were behind.
"We understand it's a difficult situation, but it was a difficult situation six weeks ago. At the end of the day the country suffers."
The tax break proposed by the previous Labour government could have created 3,000 new jobs and £457m to spend on development, according to KPMG Scotland.
The industry is also estimated to contribute £1bn to the UK's GDP each year.
Dundee has historically had strong links with the gaming industry and draws much of its talent from Abertay University, which runs specialised courses in software engineering for video games.
Chris Wright, a board member for the UK's video game trade association TIGA, said he was surprised to see a Conservative chancellor cancel a measure that would have helped UK businesses and created new jobs.
He said: "This is something that already exists for the film industry and the games industry is bigger than that.
"The UK - and especially Dundee - are at the forefront of this and are working with global players. It is something we can excel in and this was an opportunity to drive that."
Mr Wright, who is also chief operating officer of Proper Games in Dundee, said the industry would lobby the Treasury to change its policy.
"We don't see this as the end of it. This is something which absolutely has to happen," he said.