Metal detectors 'missed Afghan roadside bomb'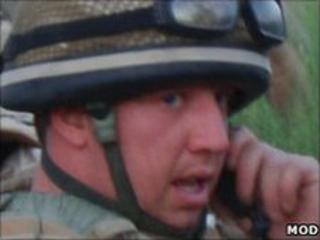 A British soldier was killed by a roadside bomb in Afghanistan that was not revealed by metal detectors, a coroner said.
Bombardier Craig Hopson, 24, from Castleford, West Yorkshire, was helping to make preparations for last year's elections in the country when he died.
The armoured vehicle in which he was travelling was hit by the undetected improved explosive device (IED).
A verdict of unlawful killing was recorded at Wakefield Coroner's Court.
Bombardier Hopson, of 40th Regiment Royal Artillery, was helping to secure a compound to be considered for use as a polling station in the Afghan elections when his patrol was struck by the explosion in the Babaji area of Helmand Province on 25 July.
'Unsurvivable' injuries
The inquest heard Bombardier Hopson and his colleagues had swept the perimeter of the compound using metal detectors and had clearly marked the sites of any possible bombs when their Jackal vehicle was hit by a device.
Coroner David Hinchliff said: "While moving into position, the vehicle in which Craig was travelling must have run over a buried and concealed explosive device, causing the Jackal to be blown on to its right side, facing the opposite direction and trapping the driver in position.
"It really looks like Craig took the impact of that blast and he suffered very serious injuries."
The inquest heard soldiers present at the time disagreed as to whether the area of the explosion had been cleared and swept by the task force.
Mr Hinchliff described the difference of opinion as a "perhaps controversial issue" but said he had heard evidence suggesting the site had been cleared but that the device had not been detected by metal detectors as it contained "no metal or little metal".
The driver of the Jackal, Private Kevin Kidd, told the inquest he was "100% happy" with the drills and was convinced the area he was driving into had been checked.
The inquest heard that Bombardier Hopson suffered "unsurvivable" head, leg and chest injuries as a result of the blast and would have been unconscious from the point of the explosion.
Recording the verdict of unlawful killing, Mr Hinchliff said: "It is my view you do not bury explosive devices of that nature for any other reason than to cause death or serious injury or maim the individuals who have the misfortune to encounter it."
The coroner praised the "valiant" efforts of Bombardier Hopson's colleagues in their medical treatment of the soldier before he was taken to hospital at Camp Bastion.
He also praised the work of the armed forces.