A Teesside boy accidentally hanged himself on a swing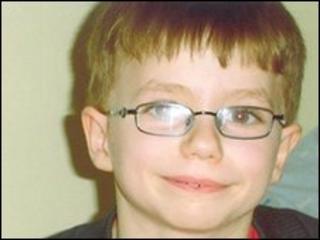 A 10-year-old Teesside boy accidentally hanged himself while playing on a rope swing, an inquest has heard.
Connor Tann was playing with a friend when he got his neck caught in a rope suspended from a tree, near his home in Boosbeck, Guisborough, in October 2009.
His friend raised the alarm but staff at James Cook University Hospital were unable to revive him.
Teesside Coroner Michael Sheffield returned a verdict of accidental death.
The inquest heard how Connor's friend, Daniel Briggs, also 10, ran to get his father and Connor's mother Vera Warzecha, who rushed to the scene in Hutton Woods to try and save him.
Daniel later told police that he was swinging on a rope and turned round to see that Connor had put his head through a tight loop on another swing, and that he was going purple.
Det Sgt Lew Matthews, of Cleveland Police, told the inquest: "This was somebody playing around, as children do, and lost control of the situation."
Mr Sheffield said: "What he had been doing was playing around, as an enterprising, energetic, inquisitive boy. Boys do that.
"He may have wondered 'What will happen if I do this?'
"Playing on such ropes is a normal, interesting, enjoyable part of growing up, but tragically in this case things went wrong."
Home Office pathologist, Dr Mark Egan, said the cause of death was asphyxia due to hanging, and could have happened in an instant.
He said: "There may have even been no time for him to shout out."
There was no evidence whatsoever to suggest anyone else was involved, he told the inquest.