Jailed ex-Met commander Ali Dizaei refused appeal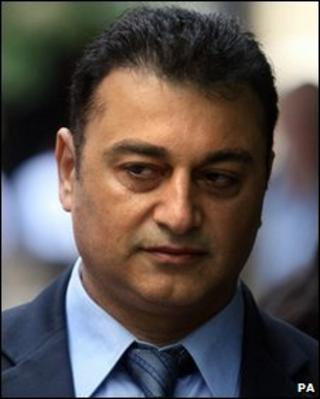 Disgraced police commander Ali Dizaei has been refused leave to appeal against his conviction for corruption.
Dizaei was jailed in February for four years for misconduct and perverting the course of justice.
The former officer was found guilty of attacking and falsely arresting a web designer in 2008.
A senior judge has now refused the 47-year-old's request to appeal against both his conviction and prison sentence.
A Crown Prosecution Service spokeswoman said: "We can confirm we have been advised he was refused leave to appeal against both conviction and sentence."
Dizaei was jailed after a dispute with web designer Waad Al-Baghdadi over payment for work on his personal website, alidizaei.com.
Mr Al-Baghdadi told Southwark Crown Court he confronted the police officer after seeing him drunk and dancing at the Persian Yas restaurant in Kensington, west London, in July 2008.
Dizaei then produced handcuffs and arrested him.
Messages 'accidentally' deleted
A police doctor told the court injuries Dizaei claimed had been caused by Mr Al-Baghdadi were probably self-inflicted.
The court also heard that Dizaei, who had a 24-year police career in the UK, claimed to have received threatening voicemails and text messages from Mr Al-Baghdadi before the incident, but had "accidentally" deleted them.
The Independent Police Complaints Commission (IPCC) said at the time "criminals in uniform like Dizaei" were the greatest threat to the reputation of the police.
Dizaei now has until 14 July to ask a panel of judges to reconsider the appeal decision, which was made by a single judge.
Dizaei's solicitors, Ralli, were not available to comment.