McChrystal in the line of fire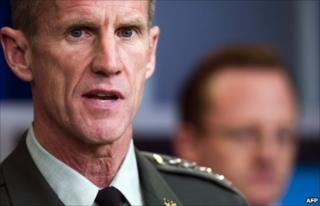 Profiles of the man the Obama administration is backing to defeat the Taliban have been generally positive, creating an impression of a kind of warrior monk whose daily routine includes eating one meal, sleeping four hours and running seven miles.
But the decision to allow a writer for Rolling Stone magazine to chronicle life behind the headlines with General Stanley McChrystal and his staff - who apparently refer to themselves as "Team America" - suggests a disturbing lack of judgement somewhere in his inner circle.
The tone of the article is meant to be generally positive and indeed makes its own small contribution to McChrystal hagiographical writing with the description of the general as a "snake-eating rebel".
But the language and tone of Rolling Stone - a pop-culture magazine - make an uncomfortable fit with the delicate form of heavily armed diplomacy with which Gen McChrystal has been entrusted in Afghanistan.
Puerile
His inner circle may well see themselves in the words of the article as "a hand-picked collection of killers, spies, geniuses, patriots... and outright maniacs".
But it is hardly how the administration will want to see them depicted in front of allies who are already sceptical about the mission in Afghanistan and its prospects for success.
The White House may be particularly sensitive to the idea that Gen McChrystal found President Obama's lack of engagement on Afghanistan "disappointing", and to the generally disparaging tone taken towards Vice-President Joe Biden.
And it will not be happy to see the National Security Adviser, James L Jones, dismissed as a "clown". But at least remarks are attributed to anonymous aides.
Gen McChrystal's own lack of enthusiasm for the US Special Envoy to Afghanistan, Richard Holbrooke, is embarrassingly obvious.
"Oh, not another e-mail from Holbrooke," he groans at one point. "I don't even want to open it."
And his reaction to being required to attend a dinner in Paris with a French minister seems embarrassingly puerile.
"I'd rather have my ass kicked by a roomful of people than attend this dinner," he tells his staff. "Unfortunately, no-one in this room could do it."
Diplomatic consequences
The political fallout has already begun to fall out of course.
The general has been summoned home from Afghanistan for a meeting at the White House, where he will probably find President Obama a bit more engaged than he was the last time.
A member of Team McChrystal - Duncan Boothby, a civilian special assistant who set up Rolling Stone's interviews - has already left his post.
But the diplomatic consequences may take a little longer to emerge.
The article revisits the US military's contempt for the efforts of its Nato allies, helpfully reminding us that ISAF is said to stand for "I Suck At Fighting".
That is not smart when Dutch and Canadian forces are on a timetable for withdrawal and doubts about the wisdom and viability of the mission persist in France and the UK.
Uncomfortable reading
More worrying for American readers will be a passage in the article where Gen McChrystal visits a detachment of US soldiers on the ground in Afghanistan.
One of their number has been killed by a booby-trap bomb in an old house.
The local commander had asked permission several times to demolish the house to eradicate the risk to his men, but Gen McChrystal's own rules of engagement mean that permission was denied.
When the general asks the soldiers if they think they are losing, one of them tells him that some of them do.
The article reports that the session ended without a round of applause - not an image of the commander in action with which the US government will feel comfortable.
Unsackable?
Beyond administering the type of ass-kicking which Gen McChrystal said he would have preferred to that French ministerial dinner though, the Obama administration's options seem rather limited.
The general is effectively the representative of the United States at the court of President Hamid Karzai, on whom American plans now depend and who continues to support him.
And the administration has effectively made the general the public face of its whole strategy.
For the moment that would seem to make it difficult to fire him.
But it would probably be a mistake for Gen McChrystal to assume that he will remain unsackable.
That kind of status does not last forever and would not survive another article like this.
For a man who has worked so hard at creating his public image, Gen Stanley McChrystal has been rather careless about protecting it.