Russia FSB bill sparks opposition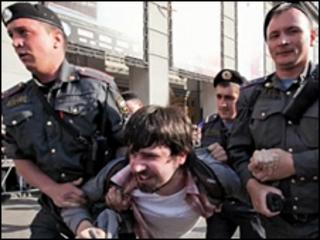 The Russian government is pushing a bill through parliament that critics say would give the country's main intelligence agency, the FSB, powers similar to those once held by its Soviet predecessor, the KGB.
At the time, almost all opponents of the communist regime were ruthlessly silenced.
The bill has been described by Russia's top human rights official as one of the most dangerous pieces of legislation to be put before parliament - but the government says it is needed to tackle extremism.
Even now, holding anti-government protests is extremely risky for opposition groups.
One rally in Moscow on 31 May - like so many others before - was soon broken up by riot police, who arrested more than 150 people.
But if parliament passes the legislation now before it, increasing the powers of the FSB, then opposition activists may not even be able to leave their homes to take part in protests.
'Preventative terror'
The FSB would be able to summon individuals in advance for questioning, and warn them against what it calls extremist activity and the possibility of committing a crime.
If the warning is ignored it could lead to 15 days' detention.
"In the worst case it will not be crime prevention, it will be preventative terror against the opponents of government," says opposition activist Alexander Artemev, who is now in Moscow's Hospital No 29 after having his arm badly broken by police at the rally last month.
"You don't have to commit any crime in the view of the authorities. You just have to oppose the policy of current officials to [come]... under the umbrella of the secret services."
Visiting Mr Artemev in hospital is his mother Elena, who says FSB agents came to see her in December about her son's activities.
"They warned me I might have problems because my son is involved in politics," she says.
But she adds that she is not scared by the law.
"I would still not give the FSB any information about my son. We survived the great terror of 1937 under Stalin, we went through this already."
'Constitutional right'
In Russia's national parliament, or Duma, where the bill has passed its first reading, Vladimir Kolesnikov, a senior member of the ruling United Russia party, denies it would be used to target opponents of the government or journalists.
Instead it is needed, he says, to tackle the growing number of extremists in the country.
"Protesting is everybody's constitutional right. But when you are protesting you shouldn't have a grenade or knife in your pocket.
"And if you're about to put together a bomb, this is where an FSB officer will step in and say: 'Stop! You are one step away from committing a crime!'"
But there are many here who are deeply suspicious of this legislation - fearing it would be another big step back to the days of repression in the Soviet Union.
One of those opposed is former KGB agent Gennady Gudkov, now a prominent MP.
"It was one of the preventative measures of the KGB in the Soviet Union, but it is absolutely not normal now in modern conditions, because now we have several parties in the state Duma and different mass media which stand for different political points of view," he says.
Mr Gudkov believes the legislation as it stands is wide-open to abuse, because it is so vague.
His fears are shared by Allison Gill, director of the Russia office of Human Rights Watch, who says the law would "once again" give Russian authorities the ability to reach into the private lives of individual citizens.
"This legislation is a huge step back for Russia. It flies in face of everything [Russian President Dmitry Medvedev] has promised about modernisation and about bringing Russia into future," she says.
"Giving security forces this kind of control over lawful, civic activity is not a sign of a country that is trying to modernise."