Ministers in Wales due to respond to the Budget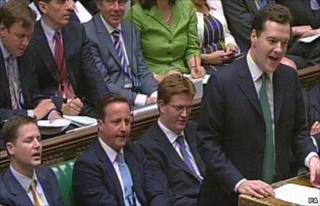 Further details are expected to emerge later about how the Budget will affect public services in Wales.
The Welsh Assembly Government has already called it "grim news" for Wales.
Ministers are due to discuss how to implement an estimated cut of half a billion pounds following Chancellor George Osborne's first Budget.
Business and budget minister Jane Hutt is due to make a full response following an assembly cabinet meeting.
In the Budget, Mr Osborne announced an increase of VAT up to 20%, the freezing of child benefit and a rise in personal income tax allowance.
He and Welsh Secretary Cheryl Gillan described the Budget as "tough but fair".
But the assembly government said it would "hit the poorest and most vulnerable" in Wales.
Big risks
In a statement, an assembly spokesman said: "We note the publication of the Budget and will study its content carefully.
"But it is already clear that - in contrast to the UK government's rhetoric - this is a Budget which will hit the poorest and most vulnerable in our society the hardest and take big risks with the recovery.
"Detailed UK spending plans for the period after 2010-11 are not included in the Budget, so it is still not yet possible to say exactly what our future settlement will be.
"But this Budget - with an unprecedented combination of tax increases, cuts in benefits and public spending - is grim news for most people across the UK and particularly bad for people in Wales.
"We are disappointed that the Budget does not recognise that Wales is already underfunded by £300m per year.
"This budget should have protected the vulnerable and WAG is committed to do all it can to continue to invest to protect jobs and services in Wales."
Tax break
But the assembly government did welcome parts of the Budget, including the proposed tax break for businesses to assist in creating jobs outside London and the south east.
"Continuing capital investment is key to supporting the recovery and to transforming public services," said the spokesman.
The assembly government has yet to decide whether to begin implementing cuts this year or to wait until 2011.