Petition calls for whaling moratorium to remain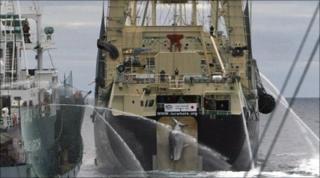 Campaigners have unveiled a petition signed by more than a million people calling for maintenance of the global moratorium on commercial whaling.
It was presented to Australian minister Peter Garrett outside the International Whaling Commission meeting in Morocco.
Another statement signed by more than 200 scientists argued that with other threats facing whales, the moratorium should remain in place.
Private talks on a compromise deal continued with little sign of progress.
However, in Tokyo, Japan's Minister of Agriculture, Fisheries and Forests, Masayoshi Yamada, said he was prepared to reduce the whaling quotas that would be assigned to Japan under the 10-year draft compromise proposal being debated here.
"I believe Japan has space to make a compromise," he said.
The draft would see Japan's minke whale quota in the Southern Ocean set to 400 for five years, then 200 for a further five years.
It is believed that Japan would contemplate movement on the first figure, but not the second - which may not be enough to convince anti-whaling countries to make a deal.
It certainly would not be enough for Mr Garrett, whose Australian government is vocal in its opposition to the proposed deal.
"I believe the people of the world's voices on protecting whales need to be heard," he said.
"I certainly hear them today in front of the IWC meeting in Morocco.
"In accepting this petition, I say that we too understand how important it is that this compromise proposal that's been floated, that would see the commercial whaling moratorium finish, does not succeed."
The petition - organised by campaign group Avaaz - reads: "As citizens from around the world, we call on you to retain the international ban on commercial whaling as the core policy of the International Whaling Commission in its pursuit of conservation of whales."
Mr Garrett also joined many conservation groups in condemning the fact that after two years of behind-the-scenes talks, delegations opted here for two more days of the same, rather than the public and accessible discussions that usually characterise this forum.
Meanwhile, the Whale and Dolphin Conservation Society (WDCS) presented the European Commission with a 200,000-postcard petition calling on the EU to ensure "the international ban on commercial whaling must stay".
Call to science
The third petition of the day was organised by a group of scientists who argue that with other threats facing cetaceans around the world, hunting should not be legitimised.
"Whilst aware that some whale populations are showing signs of increase in the absence of whaling pressure... such increases are not a sufficient rationale to justify the IWC endorsing commercial catches," their statement reads.
"There is no evidence that any of the few populations and species shown to be increasing have reached, or are anywhere near, the levels that might justify non-zero catch limits under the IWC's existing management and conservation policies and procedures."
One of those signing was Mark Simmonds, director of science at WDCS, who commented: "I think it shows that marine scientists are very concerned about the resumption of commercial whaling and that there are other things that affect whales such as climate change that need to be addressed.
"It's a request to members of the IWC not to resume commercial whaling," he told BBC News.
The proposed compromise deal has divided opinions among the conservation community.
Some argue that the commercial whaling moratorium must be maintained at all costs, while others say that as the moratorium does not prevent whaling by Iceland, Japan and Norway, a deal that substantially reduces the numbers hunted each year and puts the hunts under international oversight might be worth doing.
And others, on the pro-hunting side, are arguing against it because they believe whale-hunting is justified if it is done sustainably.
"What this process is really concerned about is ethics and, more precisely, the desire of some to impose their conviction that whaling is wrong on others who believe it is a right when carried out sustainably," said the IWMC World Conservation Trust - a lobby group that promotes sustainable use of living resources - in a newsletter distributed at the meeting.
The meeting continues until Friday, and most observers appear to be hoping to be permitted more involvement than kicking their heels outside in the Moroccan sun.