Topping out stage for Canterbury's new Marlowe Theatre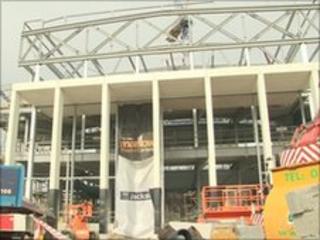 A topping out ceremony has been held in the latest stage of the £25.6m redevelopment of a Kent theatre.
The event marked the ceremonial placing of the top brick on the highest point of the Marlowe Theatre, in Canterbury.
The new theatre will boast a 1,200-seat auditorium and be able to host major touring shows when it opens in the autumn of next year.
On Saturday, a special community day will give the public a chance to see how the site is taking shape.
The new theatre, being built on the site of the existing Marlowe, will also have a second, smaller performance space.
'Transformative effect'
In addition, there will be enhanced public areas, with foyers and bars on all three floors, a riverside walk, cafe and terrace and a piazza that will provide opportunities for outside performances.
The building's architect, Keith Williams, described the redevelopment "as one of the most important capital arts projects in this country".
"I am delighted that this critical point has been reached in its construction, which leaves the project on track for opening in the autumn of next year," he said.
"I believe that the new Marlowe will have a transformative effect on arts and culture in the South East, at the same time endowing Canterbury with a truly exceptional new building.
"In these difficult economic times, this is a very good news story indeed."