Appeal over jogger, 20, killed in hit-and-run collision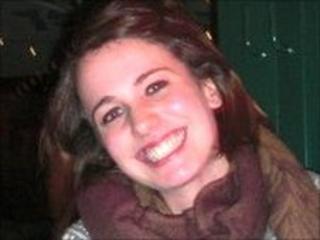 Police have appealed for witnesses after a female jogger was knocked down by a car which was then driven off in north London.
Elizabeth Alice Beach-MacGeagh, 20, was in East Barnet on 16 June when she was hit by a car at the Temple Avenue and Netherlands Road junction at 2000 BST.
The driver of the car, a blue BMW 3 Series, did not stop.
The victim, a Bristol University student from Marlborough, Wiltshire, was taken to a hospital but died later.
Her sister, Fiona Beach-MacGeagh, said life for Elizabeth was "joyful and wonderful".
"She was a butterfly, emerging from her childhood," she added.
"The depths of our grief cannot be imagined.
"This is my friend as well as my little sister."
She went on: "I just don't know how we will get through this.
"Lizzie was everything to all of us."
Officers believe the car involved would have had extensive damage to its front and side.
The driver left travelling north on Netherlands Road towards East Barnet, police said.
Det Insp Simon Pilbeam, of the Metropolitan Police, said: "The driver of the vehicle must have known that they had hit something or someone but chose not to stop.
"I am appealing to the driver to come forward, or anyone who has seen a metallic blue BMW 3 Series with damage to the front and near side."