Denbighshire taxi drivers face knowledge test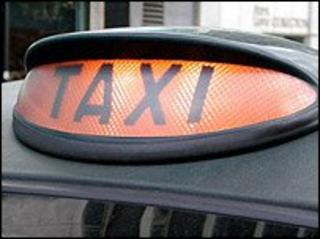 Taxi drivers in Denbighshire may soon have to take a knowledge test to prove that they know their way around.
New applicants and existing holders renewing their licence would also have to demonstrate a reasonable grasp of English under the plans.
Denbighshire council's licensing sub-committee is due to discuss introducing the tests for hackney carriage and private hire licence holders.
The proposals follow language issues with some new applicants.
It is proposed that the test will include questions about local geography and routes, hackney carriage and private hire vehicle conditions, tariffs, the Highway Code, basic vehicle maintenance and customer care skills.
According to a report made to the licensing sub-committee, there is a language barrier between some new applicants and passengers.
"Officers are receiving an increasing number of applicants who are newly resident in the UK, some of whose ability to understand and communicate with service users needs to be addressed," said the report.
"It is for this reason the test is proposed to be carried out verbally, as it is also intended to be a test of the applicants' ability to understand and speak English."
Free attempts
Applicants will also be able to take the test in Welsh.
New applicants will be eligible for two free attempts at the test, taken a week apart. If they fail twice, they will have to pay £15 for further attempts.
The same applies to existing holders, who will be given a monthly badge to carry on working if they fail.
If they have not passed the renewal test within six months, they will be referred to the committee.
At present all applicants in Denbighshire must have held a driving licence for at least one year, be checked by the Criminal Records Bureau and produce a medical certificate.
Other licensing authorities in Wales, including Conwy County Borough Council, already hold knowledge tests.
But the plans have met with anger from some local taxi drivers who view them as a money-making ploy.
Gary Pottinger of Premier Cars in Llangollen said: "The costs Denbighshire council are imposing will kill the local taxi industry.
"I don't see any benefits to this - because of the way cars are set up now, drivers don't need to speak to their passengers. This is just a money-making ploy which will protect their jobs at the council while putting more pressure on taxi firms."
Mr Pottinger says the cost of licensing taxis via Denbighshire is so high, he now licenses his through Shropshire Council.
He said: "The licences there last for three years whereas the ones in Denbighshire have to be renewed annually. I can save at least a £100 a vehicle just on the plate. I'm running 10 cars so you can see how that cost adds up."
Another taxi driver who did not wish to be named said the knowledge tests were just a way of squeezing more money out of taxi drivers.
He said: "You can understand it in places like London and Liverpool when there is a lot to see but I don't see the point in places like Rhyl.
"The council needs to think instead about the number of licences it hands out. There are about 400 taxis operating in the area and not enough customers so it is affecting our living."