East Timor opens 'gift' embassy in Canberra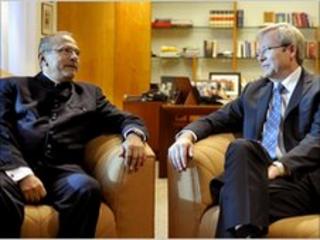 The President of East Timor, Jose Ramos Horta, has opened a new embassy for his young country in Canberra - a gift from the people of Australia.
The embassy has been financed through charitable fund-raising. It is thought to be the first time one country has given an embassy to another.
But Mr Ramos Horta's five-day visit comes at a time when relations between the two neighbours are tense.
The oil and gas which lie beneath the Timor Sea are a point of contention.
Ever since East Timor gained independence from Indonesia in 2002, the negotiations over these deposits, which are potentially worth tens of billions of dollars, have been fractious.
Speaking to reporters in Canberra, Mr Ramos Horta said he had safety concerns about an energy consortium's plan to use untested technology to develop the gas field off East Timor's south coast.
The consortium, led by Australia's Woodside Petroleum, has proposed building the world's first floating processing platform over the gas field rather than running a pipeline to East Timor or Australia.
"The very first step that has to happen is for a very frank, transparent discussion about all the options," Mr Ramos Horta said.
Australian Prime Minister Kevin Rudd said his government had no preference as to how to extract the deposits, adding the issue was between East Timor and the developers.
The BBC's Nick Bryant in Sydney says that in a country where 50% of the population gets by on just $1 (£0.70) a day, many view Australia and its resources companies as mean-spirited for trying to grab too big a share, and for not doing enough to create jobs on East Timorese soil.
Meanwhile, Mr Ramos Horta has said Australian developmental aid is being misdirected.
In a letter to the Australian ambassador on the eve of his visit, he claimed that the vast majority of donor money was spent not on East Timor but consultants, study missions, reports and recommendations.