Manet self portrait fetches record £22m at London sale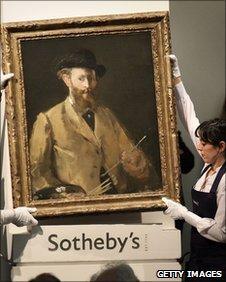 A self portrait by French painter Edouard Manet has been sold for more than £22m - a record price for the artist's work.
Called Manet A La Palette, it shows the artist in a bowler hat, posing with a paintbrush in his hand.
It sold for £22,441,250 at Sotheby's auction house in London, towards the lower end of its £20-30m estimate.
The previous highest price for a Manet was £16m in New York in 1989.
Painted between 1878 and 1879, Sotheby's said the work was one of only two self portraits by the artist, and ranked amongst the greatest of the Impressionist movement.
Other sales at the Impressionist and Modern Art Evening sale included Arbres a Collioure by French painter Andre Derain, which sold for more than £16m, and Odalisques Jouant Aux Dames by Henri Matisse, which fetched almost £12m.
Tuesday's event at Sotheby's was the first in a number of London auctions this week, which will see a string of Impressionist and modern art works go under the hammer.
Christie's are holding their own auction on Wednesday, featuring 63 works expected to fetch up to £230m.
Two masterpieces - one of Claude Monet's celebrated water lily paintings and Picasso's 1903 Portrait d'Angel Fernandez de Soto - are expected to sell for between £30m and £40m.
Christie's are also offering a portrait by Gustav Klimt's last great female portraits, expected to fetch between £14m and £18 million.
Bonhams, meanwhile, held its own Impressionist and Modern Art auction on Tuesday at which works by Picasso and Chagall were up for grabs.
However, neither Chagall's La Revolution nor Picasso's Portrait de Mr Minguell were sold at the event as neither reached their reserve price.
Related Internet Links
The BBC is not responsible for the content of external sites.