Nikki Haley wins in South Carolina primary run-off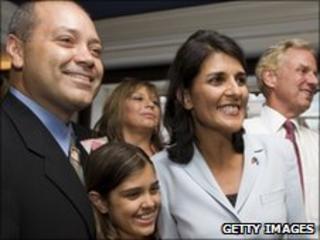 Indian-American Nikki Haley has won the Republican nomination for governor in South Carolina's primary run-offs.
Ms Haley is the first Republican woman picked to run for the post and is the favourite to become the state's first female governor in polls in November.
Her campaign was hit by allegations of marital infidelity and an ethnic slur made by a Republican senator.
Tim Scott, bidding to be the state's first black Republican congressman in over a century, also won his run-off.
Analysts suggest the outcome of South Carolina's elections could provide a measure of both racial progress in the South and the Republicans' ability to diversify.
Ms Haley, a Christian convert who gathered support from conservative Tea Party voters and backing from former Republican vice presidential candidate Sarah Palin, narrowly failed to win the nomination outright in the state's 8 June primary.
But she easily beat Rep Gresham Barrett in Tuesday's run-off race to be the Republican candidate for governor.
With 66 percent of the precincts reporting in the run-off, Ms Haley led with 65 percent of the vote to Mr Barrett's 35 percent, the Associated Press reported.
During her campaign, Ms Haley battled unproven allegations from two men - which she denied - that she had had extra-marital affairs.
Ms Haley also had to face being called a "raghead" - a derogatory term for people of Middle Eastern or Indian descent - by one opponent's backer.
"South Carolina just showed the rest of the country what we're made of," Ms Haley said following her victory.
"It's a new day in our state, and I am very blessed to be a part of it."
Meanwhile, Mr Scott beat Paul Thurmond, the son of the late US senator and former segregationist Strom Thurmond.
With 83 percent of precincts counted, Scott led with 69 percent of the vote to 31 percent for Thurmond.
Mr Scott, 44, was the first black Republican in the South Carolina legislature in more than a century when elected in 2008.
Tim Scott is another Republican candidate attempting to uproot the conservative state's history of racial tension. Mr Scott hopes to become South Carolina's first African-American Congressman in more than a century.