Papers mostly gloomy over Budget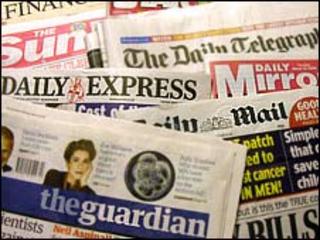 Most of the papers paint a pretty gloomy picture after Tuesday's Budget.
"The Enforcer" is the headline in The Daily Telegraph, alongside a stark, brooding image of the chancellor on the steps of 11 Downing Street.
"Pain now, more pain later" says The Guardian, referring to the Budget and the spending review due in October, which will outline cuts in Whitehall.
The Daily Mail believes millions of middle-class families will bear the brunt of the cuts and tax rises.
Medicinal outlook
But it welcomes what it describes as the "strongest economic medicine in a generation to rescue Britain from disaster".
Tom Newton Dunn continues the metaphor in The Sun, but offers a less certain prognosis.
"It's like giving a patient an antidote that has not been tested," he says.
A senior investment manager tells The Financial Times: "There is a worry that the fiscal tightening might kill the patient before he recovers".
The FT describes Mr Osborne's measures as so ambitious and so foreboding, that it seemed to "induce a sense of numbness at Westminster".
The Independent's sketch writer Simon Carr describes a "defeated silence" on the Labour benches, as the chancellor set out his main propositions.
The depressed MPs sat on their chuffs, he writes, hardly able to barrack.
'Budget earthquake'
The Express says: "Scroungers get a kicking, public spending slashed, pensioners and low paid protected".
George Osborne has unleashed a Budget earthquake, it says, to flatten Britain's debt mountain and bring back prosperity at last.
The Mail warns of a "bloodbath" at Whitehall, where some government departments face cuts of 25%.
But the language in The Times' editorial is more soothing.
The chancellor's choices on tax and spending were "daring" it says, but also sensitive to many of those who will feel the pain.