Water shortage risk for parts of Scotland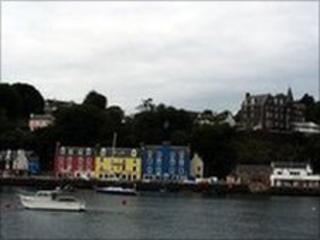 Parts of Scotland are facing water shortages and may come under drought orders if the dry spell continues, Scottish Water has warned.
The company said rainfall across the UK in the first half of the year had been at its lowest level for since 1964.
Dumfries and Galloway has been hardest hit with Ayrshire and Mull also affected.
Scottish Water has reassured its customers but added that they were "actively considering" drought orders.
The company said water levels at reservoirs are checked daily and the network was being managed. Two reservoirs have lower than normal levels, Black Esk and Penwhirn, which serve Annandale, Eskdale and Wigtownshire.
It said customers would be unaffected but advised them to help and use water wisely.
'Praying for rain'
In Mull the problem is mainly with private water supplies and Scottish Water has sent tankers carrying 80,000 gallons of fresh water to top up the public supply in the main town of Tobermory.
A hotel on the island has closed its accommodation and a holiday letting business has cancelled bookings for eight chalets next week because of the shortage.
Fiona Cherry at Killiechronan House near Loch na Keal said that she had gone to Oban to buy bottled water for her current guests.
She added: "We spend our lives wishing the rain would stop but now we are praying for it."