Two Nottingham gas blast victims both 'lose limbs'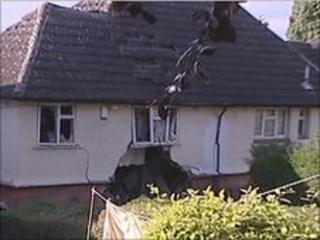 A Nottingham couple who were seriously injured in a suspected gas explosion have both lost limbs, the son of one of the victims has revealed.
Nathaniel Shaw's mother Sandra Shaw, 42, and her partner Alex "Sonny" Kirk were injured in the blast at a house on Stockhill Lane on Sunday.
Investigators have not yet been allowed to enter the premises.
Mr Shaw, 19, said his mother, who is in Selly Oak Hospital in Birmingham, is "the strongest person" he knows.
"She is a fighter and she will fight her way out of it," Mr Shaw said.
Neighbours said Mrs Shaw's two daughters, Leona, 13, and Alex, 10, were playing in the garden at the time, and were unharmed.
But a police spokesman said: "It is not clear whether they (the two children) were inside or outside the house at the time."
Nottingham City Homes (NCH), which manages the council property, said a new boiler was installed in the house six weeks ago, and it was inspected on Friday.
The spokesman said: "We have been able to view the boiler and can confirm the installation appears to be fully intact.
"We've made sure the immediate neighbours have found suitable accommodation while the police maintain a cordon around the property."
The explosion was heard up to half a mile away and caused part of the house's rear wall to collapse and much of the first floor to give way.
Nottinghamshire Police said an investigation involving the police, fire service and health and safety executive will start once the building has been made safe by structural engineers.