Record-breaking steam locomotive visits County Durham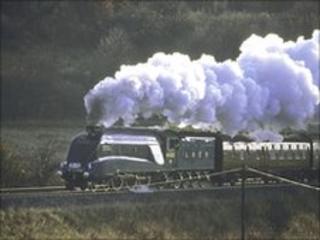 A record-breaking steam locomotive is to visit County Durham.
The Mallard, famous for breaking the world speed record for steam traction in 1938, will be pulled by Tornado to the National Railway Museum in Shildon.
The Tornado was the first steam engine built to run on the UK mainline for almost 50 years and was assembled by steam enthusiasts in Darlington.
The Mallard and Tornado will arrive in tandem from the National Railway Museum in York on Wednesday at about 1730 BST.
Timings are subject to change.
'Quite a sight'
Mallard will then be deep cleaned during Thursday and Friday, and will be ready for viewing from Saturday.
On 3 July 1938 the Mallard broke the world speed record by reaching 126mph.
Tornado, the new £3m Peppercorn class A1 pacific steam locomotive was built over almost 20 years by The A1 Steam Locomotive Trust in Darlington.
Steve Davies, director of the National Railway Museum, said: "Mallard has always been a favourite with our visitors since it first featured on the museum floor in York in 1975 - but now we think its time to share one of the jewels in our crown with our sister museum, Locomotion, in Shildon.
"It will be quite a sight to see two of the most of famous locomotives in the world heading up the East Coast Main Line together."