Fury over England big screen ban in Dover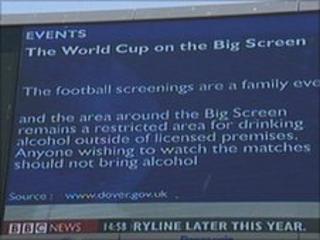 Football fans have reacted with fury after a Kent council decided not to show England's World Cup game against Slovenia on the town's big screen.
Dover Council said road closures and marshalling necessary to show Wednesday afternoon's game in the Market Square would cause too much disruption.
England's two evening games, against the USA and Algeria, were shown.
"We are appalled. They have let the people of Dover down very, very badly," said fan Peter McHugh.
The council announced its decision on Monday, following discussions with Kent Police, Kent Fire and Rescue Service, and Kent County Council.
Mr McHugh, who started a Facebook campaign to get the council to change its mind, said: "They originally said these matches would be shown up to and including the quarter finals, should England get that far.
Large numbers
"We are facing the most important England match for four years and they decided at the last minute they weren't going to show it."
He said large numbers of people of all ages watched the two previous England games without any trouble.
The town centre is a restricted area for drinking alcohol outside licensed premises and police have the power to confiscate drink taken into Market Square.
"There's nothing else apart from football that generates a great deal of interest, so it is disappointing if the football is not being shown," said the Reverend David Ridley, vicar of St Mary's Parish Church.
Dover Council said the decision had been taken reluctantly.
Chief Executive Nadeem Aziz said the screen would be showing either news or Wimbledon while England's game was taking place.
"In the current economic climate, shutting off the town centre in the middle of the week is not something the multi-agency group was prepared to support," he said.