Man is arrested over police bomb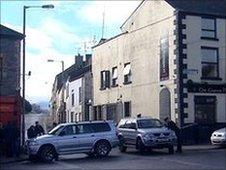 A man has been arrested over the attempted bombing of Keady police station earlier this year.
The 39-year-old man was arrested in the Lurgan area on Wednesday morning.
In February a suspicious vehicle was abandoned in Davis Street, close to the police station. The viable device was made safe and removed for examination.
A security alert is currently ongoing in Keady after a beer keg with wires was found on Castleblaney Road.