Victoria Wood to audition Manchester Eric and Ernies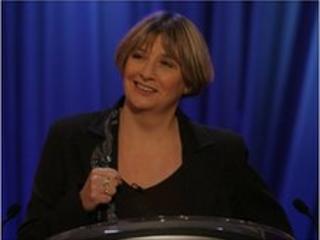 Comedienne and actress Victoria Wood is to hold open auditions in Manchester to find two boys to star alongside her in a film about Morecambe and Wise.
The drama will portray the early years of the TV double act and will star Wood as Eric Morecambe's mother Sadie.
Auditions will be held at a Manchester venue, to be announced later, on 8 July.
Wood said the boys did not need to be experienced, but just needed "to have some sort of Eric and Ernie quality".
"It's the story of Eric and Ernie and how these two little boys got together," Wood said.
"If there are any boys out there who think they look like Eric and Ernie - and they need to be able to sing and dance a bit.
"We're looking for some wayward funniness that Eric will have had as a little boy."
'Over emotional'
The screenplay by Peter Bowker, whose other credits include Blackpool and Occupation, has been commissioned by BBC Two for broadcast at Christmas.
Wood, who broke into mainstream entertainment through the talent show, New Faces, played down similarities between the Manchester auditions and the X Factor.
Commenting on the X Factor, she said: "I've no objection to it in principle, so long as they treat people properly.
"I don't like the hyped-up over emotional atmosphere," she said.